Internationality, practical relevance, applied research, and project work – The Master's in GBM has everything that very good Bachelor's graduates wish from a Master's.
Prof. Dr. Erik E. Lehmann, Head of Program, Master's in GBM
HOW TO START IN YOUR INTERNATIONAL DREAM JOB
During this exclusive Master's degree you will acquire the methodological and technical knowledge needed to successfully get started internationally in your dream job as an expert, manager, or scientist. On the way, you will deal with interesting questions:
How can data, as the crude oil of the 21st century, be used with the help of business analytics to achieve competitive advantages? How do businesses organize the digital change successfully? How can startups and agile large companies be controlled effectively and efficiently? What optimization potential can be tapped in the health sector in general or in the operating processes of hospitals in particular? How do organizations manage to generate contributions through innovations, not only to economic value but also ecological and social value? How can global supply chains, production and logistics be optimized with careful use of resources?
THE MASTER'S IN GBM IS THE RIGHT CHOICE FOR YOU, IF YOU ...
✔ have sound business and economics knowledge from your Bachelor's and now want to expand your knowledge within the scope of one of the specializations.
✔ you are thrilled by the challenges of international relationships.
✔ an integrated period of study abroad and the possibility of a double degree appeals to you.
✔ you are interested in solving complex problems within the scope of specific projects and would like to prepare for international leadership tasks.
✔ understand leadership as responsibility.
Course of studies facts
name:
Global Business Management
graduation type:
Master of Science (M.Sc.)
start of studies:
winter semester
standard period of study:
4 semester
restriction:
unrestricted (with qualification procedure)
german language knowledge (at least):
C 1
hints:
Admission requirements according to § 6 of the exam regulations in the current form. Introductory events take place closely before the start of the lecture term: https://www.uni-aug…. Start of the lecture term: https://www.uni-aug…
end of application winter semester:
15. June
WHAT THE FACULTY OF BUSINESS AND ECONOMICS OFFERS
We train you to be an international leader
■ Diverse options for the integrated period of study abroad and the option of a double degree (e.g., at Indiana University in Bloomington, USA or the University of Bergamo, Italy)
■ Teaching of in-depth knowledge of global economic relationships and international management
■ Increasing intercultural skills through working together with students and researchers from other countries as part of your project and research activity
■ High practical relevance due to intensive project studies and clear specialization during your degree
■ Exchange with leaders via the alumni network of the GBM Association
We offer optimal study conditions
■ Top equipping of the modern rooms with computers, smartboards, and software
■ Specialization in forward-looking professional fields due to large offer of courses and individual selection options of students
■ Interactive lectures, intensive project studies, and numerous tutorials in small groups to consolidate the subject matter
■ Individual support and choice of topics in seminar and Master's theses
■ Talks given by companies, practical courses, additional IT, languages, and soft skills offers
We encourage people and help them develop their own attitude
■ Targeted encouragement of critical reflection of central topics in society and the economy
■ Many offers for workshops and startup events
■ Numerous opportunities for working at a chair, in student initiatives, or for social engagement within the framework of the Social Day
■ Room to develop a responsible personality due to the informal family and open atmosphere on the campus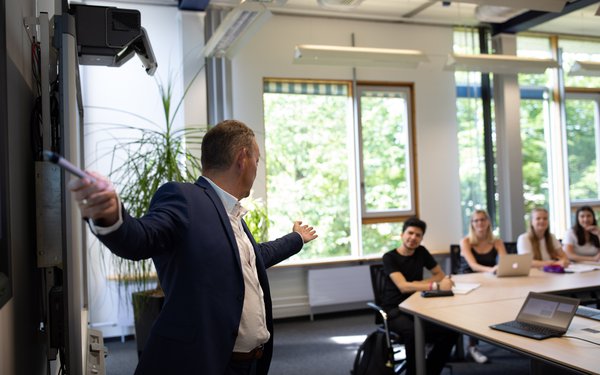 We create future prospects
Outstanding career prospects for our students due to excellent technical, methodological, and personal education, the recognized good reputation of the University of Augsburg and the growing demand for people with a Master's degree in business and economics as well as experience abroad and project experience.