Faculty of Philology and History
Public Lectures & Lectures Series
Discover our public lectures and lecture series
or take one of the many ring lectures in this
semester.
Public Lectures & Lectures Series
May 26, 2023
Dr. Cinzia Bettineschi is pleased to invite all interested to attend guest lectures on digital methods in museums and questions about the authenticity of material culture. Dates of the talks held in english language are thursdays from the 15th June 2023. [Klassische Archäologie]
Read more
May 25, 2023
Mexikanische PONTES-Lecture
Am 4. Juli 2023 trägt um 17.30 Uhr die anerkannte mexikanische Philologin Prof. Dr. Martha Lilia Tenorio vom Colegio de México (COLMEX)

zu

"

Ecos de mi pluma:

An invitation to Sor Juana's poetry" vor. Die englischsprachige PONTES-Lecture findet in Zusammenarbeit mit dem Augsburger ISLA anlässlich des Master-Studienstarts der Ibero-Romanischen Kulturstudien (IRK) statt.
Für Zoom-Zugangsdaten bitte bei juan.botia@uni-a.de melden.
[Romanische Literaturwissenschaft (Spanisch / Portugiesisch)]
May 25, 2023
Gastvortrag "Indigenous letters in Guarani (1752-1753)"
Shawn Austin (University of Arkansas) & Leonardo Cerno (Universidad Nacional de Misiones)
5.6.2023, 17:30 Uhr Hörsaal: D2005
[Angewandte Sprachwissenschaft (Romanistik)]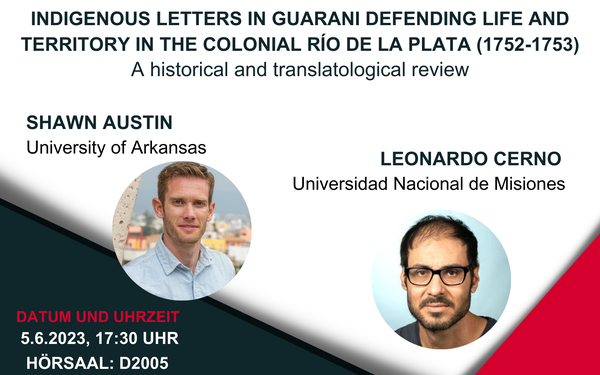 You can find us on
 
University Campus, Building D1-D5
Postal and Visitor Adress
 
University of Augsburg
Faculty of Philology and History
Universitätsstraße 10
86159 Augsburg