Chair for Civil Law, Commercial Law, European Law, International Private Law and Comparative Law
Further information on the curriculum vitae, publications, lectures and third-party funded projects of Prof. Dr. Thomas M.J. Möllers.
Contact information of the secretary`s office, research assistants and student assistants as well as lecturers and honorary professors.
All information regarding the courses and the main research interest of the chair as well as the doctorate.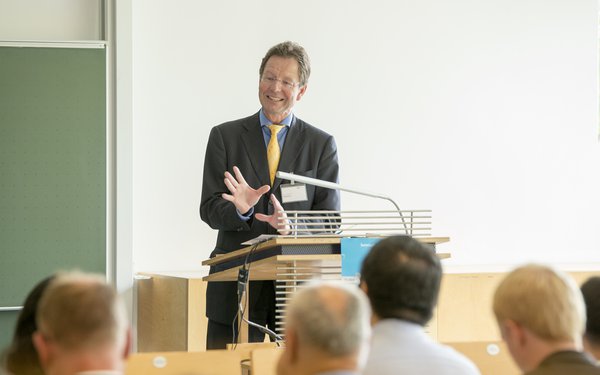 IMFS Distinguished Lecture an der Goethe Universtät Frankfurt mit Jens Weidmann (Vorsitzender der deutschen Bundesbank), Foto: Goethe University
Stiftungskonferenz der Stiftung Geld und Währung mit der jetzigen Bundesjustizministerin Christine Lambrecht (im Vordergrund), Foto: Stiftung Geld und Währung
Tagung "Europa als Rechtsgemeinschaft, Währungsunion und Finanzkrise", 2012 an der Universtät Augsburg mit Theo Waigel (ehemaliger Bundesfinanzminister) und Franz-Christoph Zeitler (ehemaliger Vizepräsident der Deutschen Bundesbank), Foto: Universität Augsburg
IMFS Distinguished Lecture an der Goethe Universtät Frankfurt mit Valdis Dombrovskis (Vize-Präsident der EU-Kommission), 2. v. rechts, Foto: IMFS Frankfurt
Science and research news
Publication "The Principle of Directive-Compliant Development of the Law and the Contra Legem Limit"
14.01.2021
The article published in "European Review of Contract Law" (ERCL) reveals how legal scholars and the case-law have gradually shown in recent decades a greater willingness to shift from a narrow, traditional boundary of permissible development of the law to a modern line of case-law regarding the boundary of directive-compliant, permissible development of the law.
20.10.2020
The book "Juristische Methodenlehre" (Legal Methods) by Professor Dr. Thomas M.J. Möllers is now available in its third edition. It addresses students, post-graduate students, but also practitioners. The book would like to put all those who apply the law in the position to develop argumentative solutions for unclarified legal questions. Ultimately, the goal is to convince the other party of the value of the legal argumentation - also and especially in the case of a dispute.(...)
04.08.2020
This book critically analyses the various approaches of public and private law enforcement and their effectiveness across several jurisdictions on the example of one topical and global collective damage event with far reaching consequences for both, consumers and investors: the Dieselgate. (...)
   

   Main research interests
German and European Capital Markets law
German and European Company Law
Legal methods
Comparative Law
European Union Law
Competition Law
Institutes and research centres
Professor Thomas M.J. Möllers is in charge of
a number of institutes and research centres in different legal systems.
Professor Dr. Thomas M.J. Möllers
Chair for Civil Law, Commercial Law, European Law, International Private Law and Comparative Law
Faculty of Law