Chair for Civil Law, Commercial Law, European Law, International Private Law and Comparative Law
Further information on the curriculum vitae, publications, lectures and third-party funded projects of Prof. Dr. Thomas M.J. Möllers.
Contact information of the secretary`s office, research assistants and student assistants as well as lecturers and honorary professors.
All information regarding the courses and the main research interest of the chair as well as the doctorate.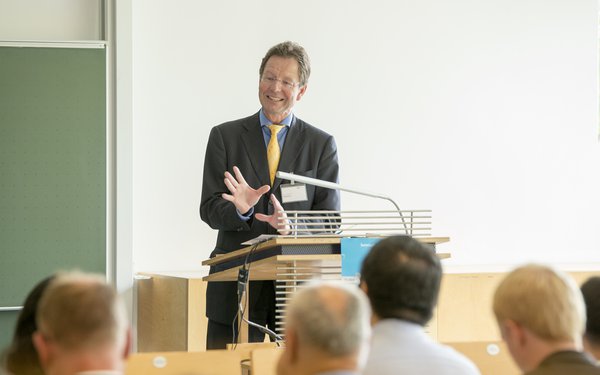 IMFS Distinguished Lecture an der Goethe Universtät Frankfurt mit Jens Weidmann (Vorsitzender der deutschen Bundesbank), Foto: Goethe University
Stiftungskonferenz der Stiftung Geld und Währung mit der jetzigen Bundesjustizministerin Christine Lambrecht (im Vordergrund), Foto: Stiftung Geld und Währung
Tagung "Europa als Rechtsgemeinschaft, Währungsunion und Finanzkrise", 2012 an der Universtät Augsburg mit Theo Waigel (ehemaliger Bundesfinanzminister) und Franz-Christoph Zeitler (ehemaliger Vizepräsident der Deutschen Bundesbank), Foto: Universität Augsburg
IMFS Distinguished Lecture an der Goethe Universtät Frankfurt mit Valdis Dombrovskis (Vize-Präsident der EU-Kommission), 2. v. rechts, Foto: IMFS Frankfurt
Science and research news
06.05.2022
On 1.1.2021, the new Civil Code of the People's Republic of China, adopted on 28.05.2020, came into force. This is a major step on the way towards a unified civil code, which goes back to the beginning of the 20th century. (...)
Visit by two doctoral students from the CUPL - 中国政法大学博士生来访请教法学方法论专题
12.04.2022
On 12 April 2022, doctoral students Mr Guobang Wu and Ms Yi Li, LL.M. from the Chinese University of Political Science and Law (CUPL) visited RICE. The discussions with Professor Möllers focused on basic theories and methods of law in Germany. Furthermore, the organisation of a symposium in the context of the publication of the monograph "Juristische Methodenlehre" in Chinese in Beijing in June 2022 was discussed. Mr Wu is currently doing his doctorate at the University of Vienna, while Ms Li is a visiting researcher at the University of Münster.
Lecture at Washington and Chapel Hill, USA
05.04.2022
In March and April 2022, Professor Möllers spent time in the USA on a research visit. He held a lecture on "The Green Deal and Sustainable Finance" at George Washington University Law School and at the University of North Carolina at Chapel Hill. At the University of North Carolina at Chapel Hill, he also focused on the current topic "War in Europe: Ukraine and Russia - political, economic, and legal consequences".
   

   Main research interests
German and European Capital Markets law
German and European Company Law
Legal methods
Comparative Law
European Union Law
Competition Law
Institutes and research centres
Professor Thomas M.J. Möllers is in charge of
a number of institutes and research centres in different legal systems.
Professor Dr. Thomas M.J. Möllers
Chair for Civil Law, Commercial Law, European Law, International Private Law and Comparative Law
Faculty of Law