Chair for Civil Law, Commercial Law, European Law, International Private Law and Comparative Law
Further information on the curriculum vitae, publications, lectures and third-party funded projects of Prof. Dr. Thomas M.J. Möllers.
Contact information of the secretary`s office, research assistants and student assistants as well as lecturers and honorary professors.
All information regarding the courses and the main research interest of the chair as well as the doctorate.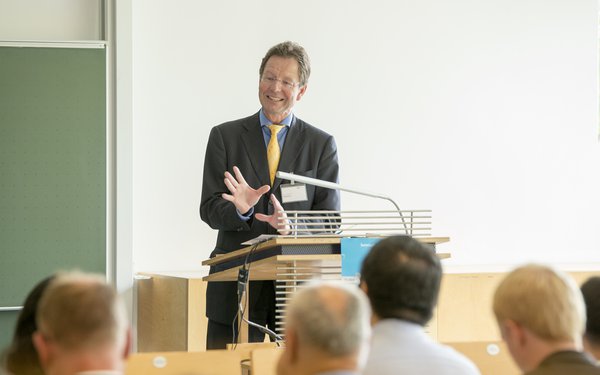 IMFS Distinguished Lecture an der Goethe Universtät Frankfurt mit Jens Weidmann (Vorsitzender der deutschen Bundesbank), Foto: Goethe University
Stiftungskonferenz der Stiftung Geld und Währung mit der jetzigen Bundesjustizministerin Christine Lambrecht (im Vordergrund), Foto: Stiftung Geld und Währung
Tagung "Europa als Rechtsgemeinschaft, Währungsunion und Finanzkrise", 2012 an der Universtät Augsburg mit Theo Waigel (ehemaliger Bundesfinanzminister) und Franz-Christoph Zeitler (ehemaliger Vizepräsident der Deutschen Bundesbank), Foto: Universität Augsburg
IMFS Distinguished Lecture an der Goethe Universtät Frankfurt mit Valdis Dombrovskis (Vize-Präsident der EU-Kommission), 2. v. rechts, Foto: IMFS Frankfurt
Science and research news
NZG 30/2021
25.10.2021
When companies and board members actively share issuer-related information in social media, some capital market law pitfalls need to be considered. The article "Tweeting Board Members and the Pitfalls of Capital Markets Law" ("Twitternde Vorstandsmitglieder und die Fallstricke des Kapitalmarktrechts") by Professor Dr. Thomas M.J. Möllers and his research assistant, Dr. Pirmin Jonas Schauer, LL.M., was published in the NZG of October 13, 2021. The article discusses, for example, the impermissible publication of insider information, the prohibition of market manipulation, as well as internal measures and sanction options of BaFin.
15.09.2021
The podcast by Professor Dr. Thomas M.J. Möllers and his chair team reports in short sequences on interesting legal issues, judgments and classifies questions of legal-political current affairs.
The latest two-part sequence (only available in the German language) deals with the topic of "short sellers". Part 1 first discusses the basics and explains the most important concepts of short selling. Part 2 deals with the German legal situation around short selling attacks and compares it with the American system. Furthermore, suggestions are made on how protection against such short selling attacks can be improved both on a German and European level.
Listen in - we appreciate your interest!
01.09.2021
"Juristische Methodenlehre" by Professor Dr. Thomas M.J. Möllers has fortunately already seen three editions since 2017 and was quickly out of print in each case. After a short time it has already received numerous reviews in Germany and abroad and is cited by case law and legal literature. An English-language version was published in 2020 and a Chinese-language edition will follow with the 4th edition in 2021. Fortunately, it is now used at many universities to prepare for the First Staatsexamen and in trainee lawyers for the Second Staatsexamen. (...)
   

   Main research interests
German and European Capital Markets law
German and European Company Law
Legal methods
Comparative Law
European Union Law
Competition Law
Institutes and research centres
Professor Thomas M.J. Möllers is in charge of
a number of institutes and research centres in different legal systems.
Professor Dr. Thomas M.J. Möllers
Chair for Civil Law, Commercial Law, European Law, International Private Law and Comparative Law
Faculty of Law