Chair for Civil Law, Commercial Law, European Law, International Private Law and Comparative Law

Due to current developments and the continuing threat of the COVID-19 pandemic, the chair is currently maintained primarily by home office. Please send us your inquiries by email.
Further information on the curriculum vitae, publications, lectures and third-party funded projects of Prof. Dr. Thomas M.J. Möllers.
Contact information of the secretary`s office, research assistants and student assistants as well as lecturers and honorary professors.
All information regarding the courses and the main research interest of the chair as well as the doctorate.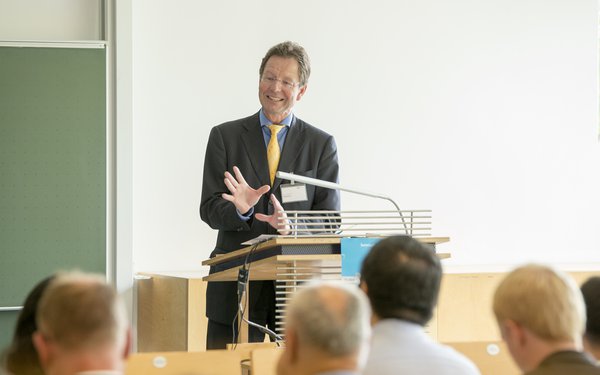 IMFS Distinguished Lecture an der Goethe Universtät Frankfurt mit Jens Weidmann (Vorsitzender der deutschen Bundesbank), Foto: Goethe University
Stiftungskonferenz der Stiftung Geld und Währung mit der jetzigen Bundesjustizministerin Christine Lambrecht (im Vordergrund), Foto: Stiftung Geld und Währung
Tagung "Europa als Rechtsgemeinschaft, Währungsunion und Finanzkrise", 2012 an der Universtät Augsburg mit Theo Waigel (ehemaliger Bundesfinanzminister) und Franz-Christoph Zeitler (ehemaliger Vizepräsident der Deutschen Bundesbank), Foto: Universität Augsburg
IMFS Distinguished Lecture an der Goethe Universtät Frankfurt mit Valdis Dombrovskis (Vize-Präsident der EU-Kommission), 2. v. rechts, Foto: IMFS Frankfurt
Science and research news
04.08.2020
This book critically analyses the various approaches of public and private law enforcement and their effectiveness across several jurisdictions on the example of one topical and global collective damage event with far reaching consequences for both, consumers and investors: the Dieselgate. (...)
New release: European Company Law
22.07.2020
Professor Möllers contributed a chapter on "European Company Law" in the fourth edition of the handbook "Europarecht" for German legal practice (edited by Reiner Schulze, André Janssen and Stefan Kadelbach).
New article "Market Manipulation Through Short Selling Attacks and Misleading Financial Analyses"
20.03.2020
These days Germany's listed companies have a high risk to become victims of short selling attacks by misleading financial analyses. Companies and supervision have so far had little to counter that. The article deals with deficits in the area of standardisation and enforcement of law and approaches solutions. It has been published in "The International Lawyer" (ISSN 0020-7810), a triannual publication of the American Bar Association's Section of International Law in cooperation with SMU Dedman School of Law, Dallas, Texas.
   

   Main research interests
German and European Capital Markets law
German and European Company Law
Legal methods
Comparative Law
European Union Law
Competition Law
Institutes and research centres
Professor Thomas M.J. Möllers is in charge of
a number of institutes and research centres in different legal systems.
Professor Dr. Thomas M.J. Möllers
Chair for Civil Law, Commercial Law, European Law, International Private Law and Comparative Law
Faculty of Law