Chair for Civil Law, Commercial Law, European Law, International Private Law and Comparative Law
Further information on the curriculum vitae, publications, lectures and third-party funded projects of Prof. Dr. Thomas M.J. Möllers.
Contact information of the secretary`s office, research assistants and student assistants as well as lecturers and honorary professors.
All information regarding the courses and the main research interest of the chair as well as the doctorate.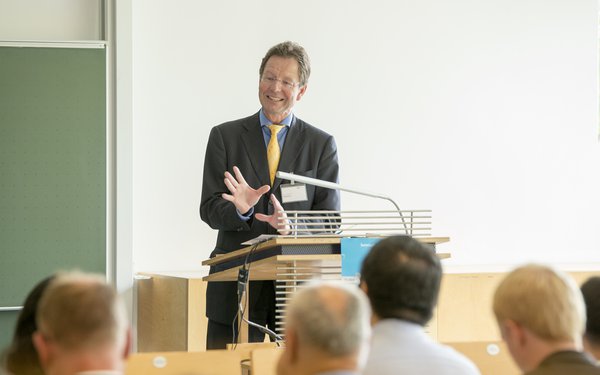 IMFS Distinguished Lecture an der Goethe Universtät Frankfurt mit Jens Weidmann (Vorsitzender der deutschen Bundesbank), Foto: Goethe University
Stiftungskonferenz der Stiftung Geld und Währung mit der jetzigen Bundesjustizministerin Christine Lambrecht (im Vordergrund), Foto: Stiftung Geld und Währung
Tagung "Europa als Rechtsgemeinschaft, Währungsunion und Finanzkrise", 2012 an der Universtät Augsburg mit Theo Waigel (ehemaliger Bundesfinanzminister) und Franz-Christoph Zeitler (ehemaliger Vizepräsident der Deutschen Bundesbank), Foto: Universität Augsburg
IMFS Distinguished Lecture an der Goethe Universtät Frankfurt mit Valdis Dombrovskis (Vize-Präsident der EU-Kommission), 2. v. rechts, Foto: IMFS Frankfurt
Science and research news
15.04.2021
The proven textbook "Juristische Arbeitstechnik und wissenschaftliches Arbeiten" (Legal Technique and Scientific Work) by Professor Dr. Thomas M.J. Möllers has been completely revised for the 10th anniversary edition. The 10th edition thus also accompanies the prospective lawyer from the beginning of his studies to the examination and perhaps also to the doctorate. Special challenges apply in times of the Corona pandemic. (...)
03.03.2021
This is the latest podcast by Professor Dr. Thomas M.J. Möllers and his team. The podcast reports in short sequences on interesting legal issues, judgements and classifies questions of current legal-political affairs.
In the first two episodes, Professor Thomas M.J. Möllers deals with the Wirecard scandal and shows perspectives on how to avoid further stock market scandals.
Listen in - we appreciate your interest!
15.02.2021
In cooperation with the University of Johannesburg, the Faculty of Law organised a conference in summer 2019 entitled "Legal Certainty and Fundamental Rights". The lectures were compiled into a conference volume, which has now been published as Volume 89 of the Augsburger Rechtsstudien (...).
   

   Main research interests
German and European Capital Markets law
German and European Company Law
Legal methods
Comparative Law
European Union Law
Competition Law
Institutes and research centres
Professor Thomas M.J. Möllers is in charge of
a number of institutes and research centres in different legal systems.
Professor Dr. Thomas M.J. Möllers
Chair for Civil Law, Commercial Law, European Law, International Private Law and Comparative Law
Faculty of Law