Education and Studies News
16.03.2022
In the summer semester of 2022, Professor Dr. Möllers, will organize a cross-thematic block seminar ranging from capital market law to comparative law and methodology on the island of Frauenchiemsee in cooperation with the U.S. professors Peter Wendel and Jeffrey Manns.
16.03.2022
Our research assistants, Tobias Manhardt and Lisa Wolf, offer a Propaedeutic Seminar on Corporate, Banking and Capital Markets Law in this year's summer semester. The seminar is aimed in particular at students in the second and fourth semesters who wish to participate in a preparatory seminar as a prerequisite for participation in a seminar in the area of specialization (cf. § 35 StudienO). Prior knowledge of corporate, banking and capital market law is not required.
05.11.2021
We are very pleased that the Practitioner Series in the winter semester 2021/22 can again take place completely in attendance form at the Faculty of Law.
The practitioner series offers students the opportunity to make initial contacts with well-known law firms and thus gain exciting impressions.
Listed you can see all courses of the chair. You can also go directly to the courses in Digicampus.
(applied filters: semester: SS 2020 | institute: Prof. Dr. Thomas M.J. Möllers - Bürgerliches Recht, Wirtschaftsrecht, Europarecht, Internationales Privatrecht und Rechtsvergleichung | course types: all)
name
lecturer
type
language
Schwerpunktseminar Kapitalmarktrecht, Rechtsvergleichung und Methodenlehre (SP I, III, VIII; ReWi Bachelor/Master)

Möllers

Thomas Möllers,

Salger

Christoph Maximilian Salger

Seminar
deutsch
Unternehmenskauf und - finanzierung sowie aktuelle Probleme des Bankrechts, SP III

Röver

Jan-Hendrik Röver,

Früh

Andreas Früh

Vorlesung
deutsch
Europäisches Kapitalgesellschaftsrecht (Grundlagen und Vertiefung), SP III

Möllers

Thomas Möllers

Vorlesung
deutsch
Propädeutisches Seminar zum Gesellschafts-, Bank- und Kapitalmarktrecht

Merk

Dominic Merk,

Schauer

Pirmin Schauer

Proseminar
deutsch
Rechtsvergleichung, SP I

Möllers

Thomas Möllers

Vorlesung
deutsch
Einführung in Compliance, SP VIII

Leisch

Franz Leisch,

Groß

Nadja Fee Viola Groß

Vorlesung
deutsch
Focus III: Corporate, banking & capital market law
Professor Dr. Thomas M.J. Möllers is in charge of Focus III Corporate, Banking and Capital Markets Law. Further information can be found on the faculty's website.
Voraussetzungen
Für eine Promotion an meinem Lehrstuhl ist ein Prädikatsexamen erforderlich. Bewerber von außerhalb können wegen der hohen Anzahl an Doktoranden, die am Lehrstuhl betreut werden, nur in Ausnahmefällen berücksichtigt werden. Unabdingbar ist dabei die Bereitschaft zur Mitarbeit am Lehrstuhl bzw. an Drittmittelprojekten! Über die allgemeinen Voraussetzungen zur Zulassung zu Promotion der an der Juristischen Fakultät der Universität Augsburg informieren Sie sich bitte auf den entsprechenden Internetseiten der Fakultät und der Studentenkanzlei. Die Promotionsordnung der Universität Augsburg und der Juristischen Fakultät der Unversität Augsburg finden Sie auf den Seiten des Zentralen Prüfungsamtes.
  Weitere Informationen zur Promotion
Anfrage
Bei Interesse an einer Promotion drucken Sie bitte den Bewerbungsbogen auf meiner Homepage aus und senden ihn ausgefüllt zusammen mit ihren einschlägigen Bewerbungsunterlagen (Motivationsschreiben, Vita, Zeugnisse) an meinen Lehrstuhl.
Abgeschlossene Promotionen
Am Lehrstuhl von Professor Möllers wurden bisher über 100 Doktorarbeiten betreut. Mit den ehemaligen Doktoranden wird ein reger Kontakt gehalten. So findet etwa alle zwei Jahre ein Doktorandenseminar statt, welches ehemaligen und aktuellen Doktoranden die Gelegenheit zu wissenschaftlichem Austausch bietet. Zuletzt traf man sich (zum 11. Mal) im März 2019 in Fischbachau.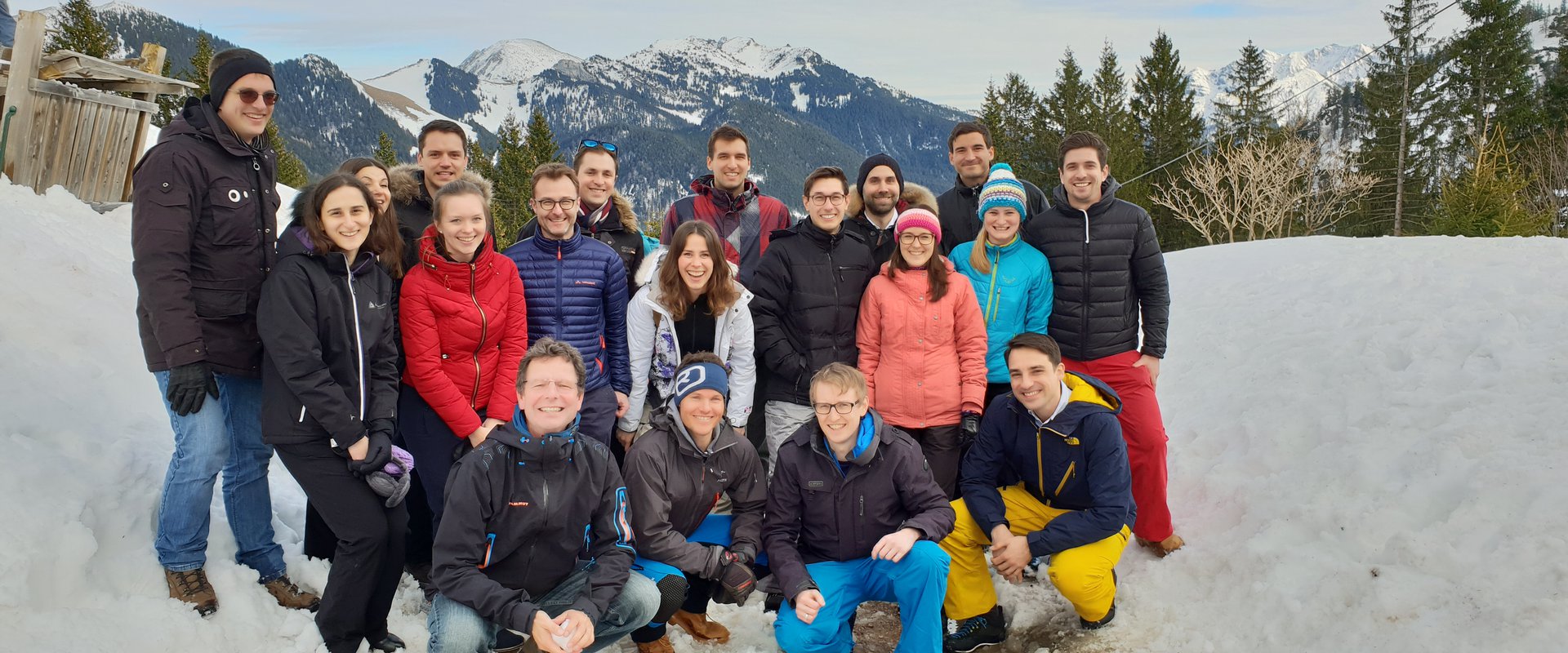 Wanderung im Rahmen des Doktorandenseminars 2019 foto: privat