YOUR ROUTE TO A GERMAN-FRENCH DOUBLE DEGREE.
Based on your knowledge acquired on your Bachelor's degree, during the course of the Master's degree in German-French Management (DFM) you acquire deeper technical knowledge in the areas of specialization chosen by you. The focus is repeatedly on France-specific and international aspects. You deal with numerous interesting issues, which are oriented on the future challenges for companies:
What effects does the digital transformation of companies have on the German and French economy? How can global companies operate in a socially and ecologically sustainable way? How are operating processes in production, logistics, and the health care sector optimized? How can data be used with the help of business analytics to create competitive advantages? Which behavioral science aspects must be taken into account in the design of effective business control? How does sustainable financial management work? How can innovative, easily scalable business models be developed? What cultural differences must be taken into consideration when developing market entry strategies? 
THE MASTER'S IN DFM IS THE RIGHT CHOICE FOR YOU, IF YOU …
✔ ... have fundamental business and economics knowledge from your Bachelor's degree and now want to acquire in-depth knowledge within the scope of a specialization.
✔ ... are very interested in finding out more about our economically and culturally very important neighboring country France.
✔ ... you enjoy dealing with people and like to take international and intercultural perspectives.
✔ ... you are interested in solving complex problems and would like to prepare for international leadership tasks.
✔ ... want to achieve a lot personally, but also have an eye for social responsibility.
German-French Management (DFM)
Program facts
Name: German-French Management
Degree: Master of Science (Augsburg) / Master's (Rennes) (M.Sc./Master's)
Program begins: Winter term
Standard period of study: 4 terms
Admissions mode: unrestricted admission (with aptitude-based procedure)
Knowledge of German (minimum requirements): B 2
Notes: The admission requirements in accordance with § 10 of the Examination Regulations in the current consolidated version (including French language skills to level B2)
Application deadline for the winter term: May 1*
*Application period March 1 to May 1 of each year for start of the degree in the winter term. More detailed information on the application process and the documents required can be found here.
Terms 1-2: Degree section at the University of Augsburg (60 ECTS credits)
The first year (M1) of the Master's degree in DFM is spent at the University of Augsburg and is made up of two module groups. In the cluster module group (36 ECTS credits) you can opt for one of four spezialisations:
■ Business Analytics & Operations
■ Finance, Accounting, Controlling & Taxation
■ Strategy, Marketing & Management
■ Economics
In addition, numerous international lectures and seminars await you in the Intercultural area module group (24 ECTS credits) (e.g., German-French Intercultural Management, Business Ethics or Jeu et Simulation d'Entreprise) as well as Business French courses.
Terms 3-4: Degree section at the University of Rennes 1 (60 ECTS credits)
You spend the second year of your degree (M2) at our partner university, Rennes 1, in Brittany. Here you choose from ten different "Parcours" (e.g. Carrières Bancaires, Management de la Mobilité Durable or Stratégie Digitale & Innovation Numérique). The section of the degree in France also includes a 4-6-month business internship, during which you write your Master's thesis. The topic and duration of the internship vary depending on the Parcours chosen. If necessary, we will be pleased to help students to find an internship placement.
Following successful completion of your program you receive a Master of Science degree from the University of Augsburg as well as the M2 of the chosen parcours of the University of Rennes 1.
Detailed information on the program can be found here.
The "German-French Management" program sensitizes students, not only for working in the German-French context, but also in the international context and it enables all graduates direct career entry in the respective industry of their choice, thanks to the wide choice of specializations and the practical phase.
Dr. Julia Hagelschuer, DFM Alumna and Marketing Manager & Senior Manager to CEO / Dürr Assembly Products GmbH (Dürr Group)
Le double-diplôme m'a apporté beaucoup plus qu'un simple diplôme. C'est professionnellement et socialement parlant très enrichissant. Que du bonheur!
Juliette Damay, Bachelor's in DFM graduate and Master's in DFM student
With our Master's in DFM, we offer students the opportunity to get a German-French double degree, which is excellent preparation for the international job market.
Prof. Dr. Wolfgang Schultze, DFM Head of Program, Master`s in German-French Management
DFM is a degree program full of opportunities! Not only due to its specializations, but also thanks to learning and working with international fellow students between Germany and France as well as two distinct regional cultures.
Meike Winkler, DFM Master graduate
DFM provides very good preparation for all kinds of different career routes and enables great career prospects, not only in practice but also in research. For example, following my degree in DFM, I decided to do a doctorate and am now working as a post-doc at the University of Augsburg.
Dr. Christina Manthei-Geh, Master's in DFM Alumna and Assistant Professor at the University of Augsburg
WHAT THE FACULTY OF BUSINESS AND ECONOMICS OFFERS
We offer top quality research and teaching
■ Internationally successful research in the important future areas of digitalization, entrepreneurship, sustainability, health, and transformation
■ Very good mixture of sound research and application-oriented education
■ Regular top positions in rankings (e.g., CHE)
■ Outstanding ratings of our courses by the students
We offer optimal study conditions
■ Top equipping of the modern rooms with computers, smartboards, and software
■ Very small DFM courses with intensive individual support on many courses
■ Interactive lectures, intensive project study, and numerous tutorials in small groups to consolidate the subject matter
■ Individual choice of topics for seminar papers and Master's theses
■ Talks given by companies, practical courses, additional IT, and language & soft skills offers
■ Grant from the German-French University during the mobility phase
We encourage people and help them develop their own opinions
■ Targeted encouragement of critical reflection of central topics in society and the economy
■ Many offers for workshops and startup events
■ Numerous opportunities for working at a chair or for engagement in the student initiatives
■ Room to develop a responsible personality due to the informal family and open atmosphere on the campus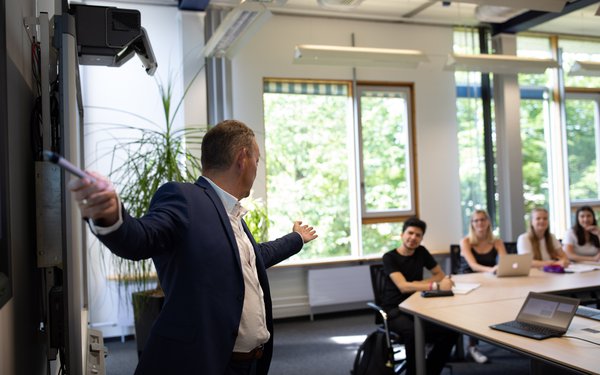 We train you to be an international leader
■ International course of studies with German-French double degree and specialization in forward-looking professional fields due to a large number of courses offered and individual choice options of the students
■ Practicing the ability to be mobile and flexible as an integral part of the education
■ Targeted teaching of intercultural skills, among other things through studying in a joint German-French cohort and working in mixed teams
■ Comprehensive teaching of communicative skills in argumentation and discourse as well as in French and optionally in English
■ High practical reference, among other things due to a business plan game and the integrated business internship as part of the Master's thesis
We create future prospects
Outstanding career prospects for our students on the German, French, and international job market due to our excellent technical, methodological, and personal education, the recognized good reputation of the University of Augsburg and Rennes 1 and the growing demand for people with an international degree in business administration.
1. Which contact can I get in touch with if I have any questions?
As the coordinator of the DFM program,  Mrs. Zbiegly (nadine.zbiegly@wiwi.uni-augsburg.de) is the right contact for all questions concerning the admission conditions, the application process, and the degree program.
Mrs. Maret is the contact in Rennes and is specially responsible for questions on studying in Rennes (student hostels, etc.).
2. How many ECTS credits are required from Business Administration / Economics?
Basically, at least 60 ECTS credits must have been obtained in Business Administration / Economics by the end of your current Bachelor's degree at the latest. During the Master's in DFM you cannot resit any courses or take them retroactively. You must have the necessary credits before starting the degree.
3. What level of French must be proven and how can I do this?
French language level B2 (in accordance with CEF) or higher is required. Acceptable proofs are certificates of official language tests as well as proofs of exams you have passed with the relevant level at a university (for example, issued by the language center).
4. Do I have to have a certain level of English to apply?
You do not have to submit any proofs for English; however, if the applicant has them,
they are welcome to enclose them with their application. An enclosed proof is taken into consideration as part of the evaluation of the written application.
5. In which subareas of Business Administration / Economics can I specialize in Augsburg / Rennes?
At the University of Augsburg you have the choice between four specialization options, so-called clusters: Business Analytics & Operations, Finance, Accounting, Controlling & Taxation, Strategy, Marketing & Management, and Economics. At the Université de Rennes 1, more than ten different "parcours" (courses) are available for you to choose from. Here you will find the most important information on the clusters in Augsburg and the parcours in Rennes.
6. How are the clusters in Augsburg (M1) and the parcours in Rennes (M2) combinable with each other?
General information about the combination options for the clusters and parcours are given in the combination table. Regardless of the combination options given there, however, as part of the application process, you should pay attention to consistency in the choice of M1 and M2. The DFM program is not there for students to learn completely new fields, since it is a Master's program. It makes sense for students, for example, who already have a Bachelor's with focus on Finance, to opt for the Finance, Accounting, Controlling, & Taxation cluster (M1) and the FE or CB parcours (M2). An analogous example is the choice of the Strategy, Marketing, & Management cluster (M1) in combination with the AIMPE or MEI parcours (M2). Students with a Bachelor's with Logistics focus should choose the Business Analytics & Operations cluster (M1) in Augsburg and the LOG (M2) parcours in Rennes. The highly quantitative orientation of M2 (e.g., IEF, PPE) should be taken in combination with the Finance, Accounting, Controlling, & Taxation cluster. For applicants whose focal interest is Economics, combinations with the Economics cluster (M1) and the EDP or IMEPP parcours are suitable (M2).
7. Is there a checklist for the application documents?
Yes, follow this  link and you will find the checklist, which you must also enclose with your application.
1. What format does the application interview take and how can I prepare myself?
The application interview generally lasts around 20 minutes and is held in the Faculty of Business and Economics at the University of Augsburg. The interview jury is made up of University of Augsburg representatives as well as of the Université de Rennes 1. The interview is held in both German and French. First of all, the applicant should describe their motivation for choosing the program and show how DFM fits in their higher education and career planning. Technical questions will then be asked and the priority given for the cluster/parcours combinations is discussed. The parcours in the second year in Rennes is bindingly specified at the end of the interview. The choice of cluster at the University of Augsburg can be changed up until the degree begins in Augsburg (provided the cluster and parcours continue to be combinable – further information on the combination options can be found here). Applicants should therefore prepare for the various points named above, and in particular, think about the choice of M2 in Rennes in advance and examine the individual options in detail. In particular, applicants who have not got a pure Bachelor's degree in Business and Economics, should also especially prepare for relevant technical questions on various fundamental areas of economics.
2. When can I expect an acceptance or rejection letter?
Towards the end of June you will receive your preliminary letter of acceptance or final rejection letter.
1. What do I still have to do?
Applicants are informed of the result of the interview by mail, mostly at the end of June. After receiving a letter of acceptance, the applicant must enroll ("matriculation") with the University of Augsburg (end of September / beginning of October) and also register online with the German-French University (by the end of September). Further information on enrollment is provided in the acceptance letter.
2. How can I find an apartment in Augsburg?
You should start looking for an apartment in Augsburg early. In particular, the student residences of the student services ("Studentenwerk") are highly in demand. The earlier you submit an application, the higher your chance of receiving a place. Shared apartments and houses etc. can also be found on the usual portals.
3. Is there a possibility of receiving financial support during the Master's degree course?
The Master's in DFM is supported by the  German-French University (DFH). Accordingly, during their stay abroad, each student receives a monthly grant, currently €300, for ten months. In addition, students can also apply for other grants, but must note that in some cases it is not possible to receive double funding.
4. How do I prepare for the year in France?
Apart from diverse information events, we also provide you with the contact details of a fellow student who is in a higher semester (if possible, with the same combination of clusters in Augsburg and parcours in Rennes).
5. How do I look for an internship in France?
Each student is responsible for finding their own internship and should note the requirements of their respective parcours in Rennes. In addition, various forms of support are given. For example, most parcours in France have their own association, through which adverts for internships are often distributed. In addition, in Rennes, there are lists available of former internship providers in previous years 
and current adverts are always communicated via the DFM distribution list.
6. What degree do I get after successfully completing my Master's in DFM?
Students on the DFM program receive two full degrees: a Master of Science issued by the University of Augsburg as well as the French Master's of the chosen parcours in Rennes. In addition, the German-French University issues a certificate for the two degrees.
Nadine Zbiegly M.Sc. with honors
Program coordinator (Augsburg)
Prof. Dr. Wolfgang Schultze: Chair of Accounting & Controlling