HOW TO START YOUR CAREER AS A PROBLEM SOLVER
Within this highly individualized Master's program, you deepen the methods you've already learned in the bachelor's program and supplement them by new methods in order to have the necessary tools for the analysis and solution of economic questions and problems. In specialized courses, the learned methods are practiced and applied to concrete economic issues, such as the computer-based simulation of economic policy measures. By the end of the program, you will be able to analyze economic questions independently and develop policy options as well as solutions for economic issues. In doing so, you will encounter the following questions, among others:
What is the relationship between climate targets and economic growth and what are the consequences for optimal climate policy? How can the financial sector be regulated, taking into account stability requirements, while maintaining the benefits of a competitive environment? How can a fair tax system be implemented through a democratic process? What are the implications of demographic change for social security systems and how can pension, health and long-term care insurance be financed sustainably, fairly and efficiently?
THE MASTER'S PROGRAM IN ECONOMICS IS JUST RIGHT FOR YOU IF YOU ...
✔ ... have a sound knowledge of the fundamentals of business administration and especially economics, mathematical-analytical and social science methods from the bachelor's program and a great interest in economic issues.
✔ ... like thinking in models and systematic empirical analyses.
✔ ... want to analyze complex economic policy problems in a well-founded manner and evaluate reform options.
✔ ... want to prepare for a management position in a company, an association or a government agency or if you aim for an academic career.
✔ ... want to achieve personal goals, but also have an eye for social responsibility.
About the degree programme
Degree programme:
Economics and Public Policy
Official Designation:
Economics and Public Policy
Degree:
Master of Science (M.Sc.)
Language of instruction:
German English
Start of studies:
winter semester, summer semester
Standard study duration:
4 semesters
Admission type:
Open admission (with an aptitude assessment process)
Minimum German language skills:
C 1
Please note:
Admission requirements according to § 4 of the exam regulations. English language skills at level B2 (CEFR) are required. Introductory events take place closely before the start of the lecture period: https://www.uni-aug…. Start of the lecture period: https://www.uni-aug…
Application deadline for the summer semester:
15. December
Application deadline for the winter semester:
15. June
The EPP Master's perfectly prepares our prospective economists both for an academic career as well as for management positions in companies, associations or government agencies.
Prof. Dr. Robert Nuscheler, Head of EPP program
THE ROUTE TO ECONOMICS AND PUBLIC POLICY (M.S.)
Are you interested in our master's program in EPP? If so, you should have good grades as well as basic knowledge of economics and its methods from your bachelor's program. You can prove this through a bachelor's degree in economics or a degree in related disciplines. Furthermore, you need to have good language skills in German (C1) and English (B2).
4 terms:
■ 3 methods lectures with a total of 18 credit points (ECTS)
■ Major in Economics with a total of 42 credit points (ECTS)
■ 1 minor with the possibility of individual course selection with the possibility of individual course selection with 30 credit points (ECTS)
■ Master's thesis with individual topic selection with 30 credit points (ECTS)
Major Economics
In the Economics major you can choose from a wide range of courses and focus your course of studies according to your interests. For example, you can focus on the economics of market failure and develop solutions to economic policy problems in the areas finance, health care, pensions, taxation, and environment. In addition, you can emphasize on both, traditional and modern areas of microeconomics or macroeconomics, e.g., behavioral economics and experimental research or growth, business cycles, and distribution.
Minor
With the choice of your minor, you can individualize your studies and thus prepare yourself for your professional career in a targeted manner. By choosing the minor "General Management & Economics" you can select master courses from the Faculty of Business Administration and Economics and thus freely complement your economics courses of the major. Alternatively, you can choose one of the three business administration minors "Business Analytics & Operations", "Finance, Accounting, Controlling & Taxation" and "Strategy, Marketing & Management".
WHAT THE FACULTY OF BUSINESS AND ECONOMICS OFFERS
We offer top quality research and teaching
■ Internationally successful research in the important future areas of digitalization, entrepreneurship, sustainability, health, and transformation
■ Excellent mix of research and application-oriented education
■ International orientation of our degree programs and diverse opportunities to study abroad
■ Regular top positions in rankings (e.g., CHE)
■ Outstanding ratings of our courses by students
We offer optimal study conditions
■ Top equipped rooms with modern computers, smartboards and software
■ Specialization in forward-looking professional fields due to the large offer of courses and the individual selection options of students
■ Interactive lectures, intensive project studies, and numerous tutorials in small groups to consolidate the subject matter
■ Individual support and choice of topics in seminar and Master's theses
■ Talks given by companies, practical courses, additional IT, languages, and soft skills offers
We encourage people and help them develop own opinions
■ Targeted encouragement of critical reflection and discussions about central topics in society and the economy
■ Numerous opportunities to work for a chair or to get involved in student initiatives
■ Various opportunities for informal exchange between students and lecturers, for example within the context of the VWL Get-together and the EPP Stammtisch (regulars' table)
■ Room to develop a responsible personality through the familiar and open atmosphere on the campus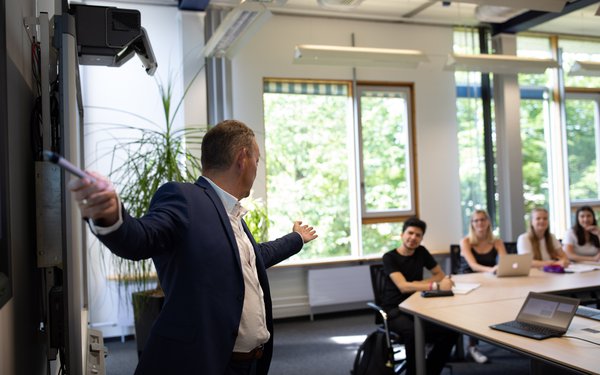 We create future prospects
Outstanding career prospects for our students due to our excellent technical, methodological and personal education, the recognized good reputation of the University of Augsburg and the growing demand for people with a master's degree in Economics.
Due to the optimal mix of methodological competence, extensive economic qualification, and the development of your personality, you will be ready for any professional challenge after graduation.
Working in the industry, the financial sector, consulting, associations or government agencies – we open up worlds for you!
The career service advises you on career orientation and entry.
The doctorate is the highest academic degree awarded by universities in this country.
After successful completion of your degree, you therefore have the opportunity to start your doctoral studies at the University of Augsburg or at another university at home or abroad.
Check our vacancies for student and research assistants at the Institute of Economics as well as external internships and job offers.
The Faculty of Business and Economics holds a Master's Information Day in the winter and the summer term. Potential students have the opportunity to comprehensively find out at first-hand about our Master's programs, their composition, structure, and the application conditions.
Assistant Professor
Chair of Economic Policy and Industrial Economics
Doctoral Student
Prof. Dr. Robert Nuscheler: Finanzwissenschaft, insbesondere Gesundheitsökonomik