HOW TO START YOUR CAREER AS A PROBLEM SOLVER
The methods learned in the bachelor's program are deepened and supplemented by new methods to provide the necessary tools to analyze and solve economic questions and problems. In specialized courses, the learned methods are applied to concrete economic questions and trained, such as the computer-assisted simulation of economic policy measures. At the end of the program, you will be able to conduct independent analyses and develop both, options for action and solutions for economic problems in the finance and insurance industry. In doing so, you will address the following questions, among others:
What is the relationship between climate targets and economic growth and what are the consequences for an optimal climate policy? How can the financial sector be regulated, considering stability requirements, without undermining the benefits of a competitive environment? How can a fair tax system be implemented through a democratic process? What impact will demographic change have on social security systems and how can pension, health and long-term care insurance be financed sustainably, fairly and efficiently?
The Master's in Economics and Public Policy IS THE RIGHT CHOICE FOR YOU, IF YOU …
✔ ... have a sound knowledge of the fundamentals of business and especially economics as well as mathematical-analytical and social science methods from your bachelor's program and a strong interest in economic questions.
✔ ... appreciate thinking in models and systematic empirical analyses.
✔ ... want to analyze complex economic policy problems in a well-founded manner and evaluate reform options.
✔ ... would like to prepare for management positions in companies, associations and ministries or for an academic career.
✔ ... want to achieve personal goals, but also have an eye for social responsibility.
Course of studies facts
name:
Economics and Public Policy
graduation type:
Master of Science (M.Sc.)
start of studies:
winter semester, summer semester
standard period of study:
4 semester
restriction:
unrestricted (with qualification procedure)
german language knowledge (at least):
C 1
hints:
Admission requirements according to § 4 of the exam regulations as of 31.03.2021. English language skills at level B2 (CEFR) are required. Introductory events take place closely before the start of the lecture term: https://www.uni-aug…. Start of the lecture term: https://www.stmwk.b….
end of application summer semester:
15. December
end of application winter semester:
15. June
The EPP program prepares our future economists perfectly for a scientific career as well as for management positions in companies, associations or ministries.
Prof. Dr. Robert Nuscheler, Program Director Master in EPP
You are interested in studying in our EPP masters? Then you should have good grades along with basic knowledge of economics and its methods from your bachelor's degree. You can prove this by a bachelor's degree in economics or related disciplines. Furthermore, you must have good language skills in German (C1) and English (B2).
4 Semesters:
■ 3 methods courses with a total of 18 ECTS credits
■ Major in Economics with a total of 42 ECTS credits
■ 1 minor with the possibility of individual course selection with 30 ECTS credits
■ Master's thesis with 30 ECTS credits
Minor
Choosing a minor allows you to individualize your studies and thus prepare specifically for your professional career. With the minor "General Management & Economics" you can complement the economic courses of the major with freely combinable master's courses from the Faculty of Business and Economics. Alternatively, you can choose one of the three business minor subjects "Business Analytics & Operations", "Finance, Accounting, Controlling & Taxation" or "Strategy, Marketing & Management".
Major Economics
Your major in Economics allows you to choose from a wide range of courses and focus according to your interests. For example, you can focus on the economics of market failure and develop solutions to economic policy problems in finance, health care, pension, taxation, and the environment. In addition, concentrations are available in traditional and modern areas of microeconomics or macroeconomics, such as behavioral economics and experimental research or growth, business cycles, and distribution.
WHAT THE FACULTY OF BUSINESS AND ECONOMICS OFFERS YOU
We offer top quality research and teaching
■ Internationally successful research in the important future areas of digitalization, entrepreneurship, sustainability, health, and transformation
■ International orientation of our degree programs and diverse opportunities to study abroad
■ Regular top positions in rankings (e.g., CHE)
■ Outstanding ratings of our courses by students
We offer optimal study conditions
■ Top equipping of the modern rooms with computers, smartboards, and software■ Support with refreshing mathematics knowledge and orientation phase at the start of the degree
■ Individual students advisory service
■ Numerous exercises and tutorials in small groups to consolidate the subject matter
■ Individual support for seminar papers and Bachelor's theses
■ Talks given by companies, practical courses, additional IT, languages, and soft skills offers
We encourage people and help them develop own opinions
■ Targeted encouragement of critical reflection of central topics in society and the economy
■ Many offers for workshops and startup events
■ Numerous opportunities for working at a chair or for engagement in the student initiatives
■ Room to develop a responsible personality due to the informal family and open atmosphere on the campus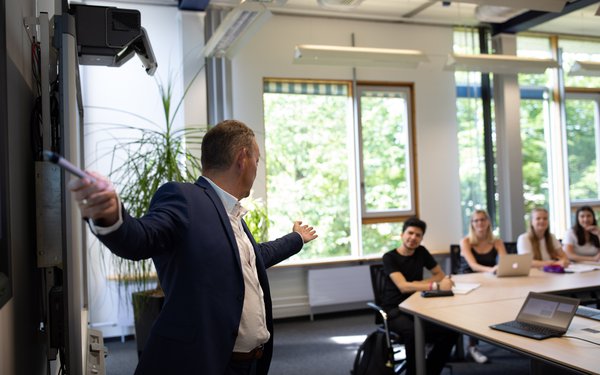 We create future prospects
Very good career prospects for our students due to excellent technical and methodological education, the recognized good reputation of the University of Augsburg, and the growing demand for people with a degree in business administration. The opportunities for students to start an interesting career after they have finished their degree are extremely positive in the metropolitan region of Augsburg/Munich, thanks to the enormous number of large and mid-sized enterprises based here.
Due to the optimal mix of profound methodological competence, intensive economic specialization and the development of your personality, you will be ready for any professional challenge after your studies.
Associations, international organizations or ministries, banks, insurance companies or PhDs, in Germany or abroad - we open up worlds for you!
Check our vacancies for student and research assistants at the Institute of Economics as well as external internships and job offers.
Assistant Professor
Chair of Economic Policy and Industrial Economics
Doctoral Student
Prof. Dr. Robert Nuscheler: Finanzwissenschaft, insbesondere Gesundheitsökonomik